Alison Levine
First American Women's Everest Expedition Team Captain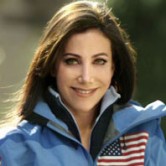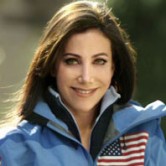 Levine, a world-renowned adventurer, shares lessons learned from various extreme environments–ranging from Mt Everest to the South Pole–and explains how they apply to business and beyond.
Her advice is flat-out contrarian and flies in the face of what you've been told by well-known management gurus and highly-paid executive coaches: encourage big egos, go backward — away from your goal, ignore the rules, ditch the plan, deprive yourself of sleep, and reward failure. But it works for her, and it can work for you too.
She provides a roadmap to help you scale whatever big peaks you aspire to climb–be they literal or figurative–by offering practical, humorous, and often unorthodox advice about how to reach your potential as a leader.
Levine served as the team captain of the first American Women's Everest Expedition, scaled the highest peak on every continent, and skied to both the North and South Poles–an accomplishment known as the Adventure Grand Slam, which fewer than forty people in the world have achieved.
"Standing on top of a mountain isn't important; it's about the journey…and the lessons you learn along the way." — Alison Levine
Levine spent four years as an adjunct professor at the United States Military Academy at West Point in the Department of Behavioral Sciences & Leadership. She is an advisor to the Thayer Leader Development Group at West Point and is on the board of the Coach K Center on Leadership and Ethics at Duke University. She is the founder of the Climb High Foundation, which trains jobless women in western Uganda to work as trekking guides in the Rwenzori Mountains. She is one of few who have presented at the World Economic Forum in Switzerland. Her best-selling book, On the Edge: The Art of High Impact Leadership, was released in January of 2014.