Our 2021conferences were a huge success, largely due to the cooperation of our attendees and host resorts!
With COVID-19 on the decline but still present in our everyday lives, 7×24 Exchange remains committed to the health and safety of our conference attendees and staff. Along with our partner Marriott Hotels and Resorts, we will continue to comply with the health and safety recommendations of the Centers for Disease Control and Prevention (CDC) https://www.cdc.gov for group meetings and events. 7×24 Exchange International is committed to a 2022 Spring Conference that will provide education, information sharing, networking and a memorable experience and look forward to seeing you in June.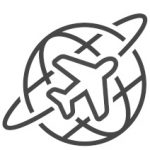 Before traveling, we encourage you to check travel guidelines and requirements for your country at CDC Travel.
All air passengers coming to the United States, including U.S. citizens, are required to have a negative COVID-19 test result or documentation of recovery from COVID-19 before they board a flight to the United States.
Masks are required on planes, buses, trains, and other forms of public transportation traveling into, within, or out of the United States and in U.S. transportation hubs such as airports and stations. 7×24 Exchange International is not responsible for publishing updated travel restrictions or guidelines.
* This information may change based on venue, local, state, and federal guidelines. Always check back here for the latest information. Information is subject to change without notice. Last Updated: March 21, 2022